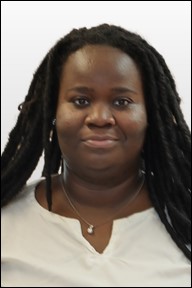 Nominee:
Name: Ange N.
Department: Community Living
Years in company: 1 Year
Nominated By:
Name: Autumn L.
Position: Direct Support Professional

Here are the Highlights from Ange's nomination:
Top Attributes:
Patient
Hard-working
Punctual
Mission Driven:
Ange loves the people she supports and help them make a variety of breakfast choices in the morning. She also encourages the people she supports by guiding them through some house chores that they enjoy. She is patient with the people she supports and truly cares for their well-being.

Leadership:
Ange noticed something was off with one of the people she supports and immediately called the Nurse, and her Supervisor, as well as took this person to the emergency room. Her leadership skills in this situation were extremely helpful in keeping this person safe and ensuring they received good medical care. She is a true leader at The Arc NCR!