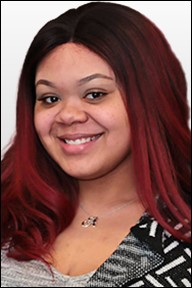 Nominee:
Name: Auriel W.
Department: Community Living
Years in company: 3 Years, 7 Months
Nominated By:
Name: Reannon D.
Position: Supervisor

Here are the Highlights from Auriel's nomination:
Top Attributes:
Dedicated
Dependable
Committed
Mission Driven:
Auriel demonstrates our mission every day. She ensures that the people she supports get out in the community and do things that they enjoy. Some examples include, taking them for snowballs, shopping at Target/Walmart, or going for an evening drive around the community. Auriel is very dedicated to the individuals she supports. She is always willing to fill in extra shifts when needed. She has a positive attitude. We enjoy having her on our team!

Advocacy:
Auriel advocates for the people she supports. She makes sure when the people she supports are out in the community, they receive the respect that they deserve. She also offered guidance for one person during their weight loss journey. She makes her healthy meals and gets her involved in the meal planning. Auriel is truly an advocate for The Arc NCR!