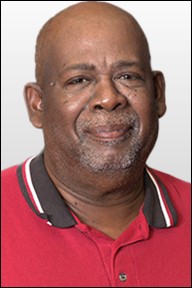 Nominee:
Name: Bruce P.
Department: Employment Services
Years in company: 13 Years, 1 Month
Nominated By:
Name: Sherry K.
Position: DORS Supervisor

Here are the Highlights from Bruce's nomination:
Top Attributes:
Patient
Dependable
Hardworking
Mission Driven:
Bruce is mission driven. He is patient and kind when he coaches and teaches skills. He believes in the mission of The Arc NCR as he empowers people with disabilities to live, work and thrive in the community. Bruce is an unsung hero. He is quiet and humble. He is a really great guy and teammate.

Leadership:
Bruce is one of the first people here in the mornings and he is usually one of the last people to leave. He is a true team player. He never complains, simply does what needs to be done. He is dependable, consistent, and hard working. He has great leadership qualities, and The Arc NCR is very lucky to have him.