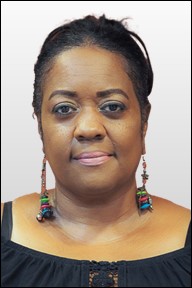 Nominee:
Name: Cheryl D.
Department: Community Living
Years in company: 3 Years, 11 Months
Nominated By:
Name: Erna C.
Position: Community Living Supervisor

Here are the Highlights from Cheryl's nomination:
Top Attributes:
Advocate
Hardworking
Mission-Driven
Mission Driven:
Cheryl teaches the people she supports to be independent no matter the challenges they face. Cheryl puts a lot of time in with the ladies in the Community Living home she works in, and even has them learning new vocabulary that other team members and family members have never heard them use. The home is always spotless and clean and the ladies living there truly feel at home.

Advocacy:
Cheryl is a true advocate at The Arc NCR. She has worked closely with one of the people in the Community Living home she works in and was able to share with the team that this person understands everything that is being said to her, however, she wants to do it on her own time. She is patient and takes her time in understanding each person's needs. Cheryl speaks up on health issues or concerns for the ladies in her Community Living home as well.