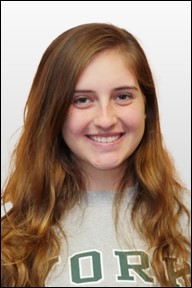 Nominee:
Name: Emma H.
Department: Community Partners
Years in company: 1 Year, 2 Months
Nominated By:
Name: Sarah B.
Position: Assistant Director of Community Partners
Name: Renee P.
Position: Community Coach

Here are the Highlights from Emma's nomination:
Top Attributes:
Mission Driven:
Emma demonstrates The Arc NCR's mission every day she is supporting people. She truly believes in empowering people with differing abilities to live, work and thrive in the community. Emma is mature beyond her years. She gently encourages the people she supports to try new activities and celebrates the steps they accomplish, rather than just the end goal. Emma wants the people she supports to feel empowered every step of the way. Emma is the DSP that everyone wants on their team. She is engaged, takes initiative and is always looking to learn and do more. The Arc NCR is fortunate to have her.

Advocacy:
Emma was providing supports to a young group of ladies who wanted to go to a trampoline park. The ladies had been asking for a few months but were not given approval right away. Emma took the initiative to reach out to the parent of each of the ladies for them to sign a release and get confirmation they were okay with the activity. Emma spoke to family members, gathered release forms, obtained the information and forms from the facility, and advocated for the trip; Emma mitigated the potential for additional concerns and for a "no" response. Now that is advocacy at its' finest!