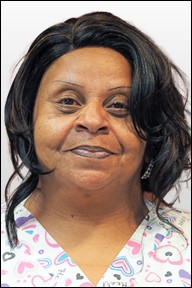 Nominee:
Name: Joanne E.
Department: Community Living
Years in company: 3 Years, 11 Months
Nominated By:
Name: Kim A.
Position: Sr. Director Clinical and Family Supports
Name: Erika B.
Position: Clinical Support Specialist
Name: Akintunde A.
Position: Direct Support Professional

Here are the Highlights from Joanne's nomination:

Top Attributes:
Mission Driven
Advocate
Passionate
Mission Driven:
Joanne has developed relationships with the two men at the Community Living home where she works. She supports them in learning skills they are interested in to help them be more independent. She models to new employees the importance of your relationship with those you support and providing supports to adults that help move them toward independence, while supporting them in the areas they need. Joanne continuously promotes and demonstrates professionalism. She does her best to ensure every medication is in place and that the people she supports are living the life they want to live. She is the glue that holds everything together.

Leadership:
Joanne is a leader in the Community Living home she works in. She helps train new team members and makes sure the house feels like a home by decorating for holidays. She assists in the home when there are open shifts and checks in on new hires. She is always helping other employees who are struggling with how to handle situations and offers suggestions. She is a great leader at The Arc NCR!