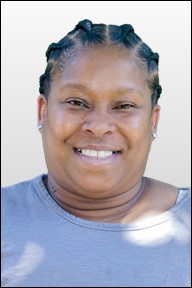 Nominee:
Name: Latisha S.
Department: Community Partners
Years in company: 1 Year, 2 Months
Nominated By:
Name: Sarah B.
Position: Assistant Director of Community Partners

Here are the Highlights from Latisha's nomination:
Top Attributes:
Mission Driven:
Latisha demonstrates The Arc NCR's mission every day she is supporting people. She truly believes in empowering people with differing abilities to live, work and thrive in the community. She has a firm, but gentle and caring manner that allows the people she supports to feel safe and supported at all times. Latisha encourages people to grow to their fullest potential. She has been supporting one gentleman for the past year. He is not very vocal, and many people say they have rarely heard him speak. I clearly recall after a short 4-5 weeks of Latisha providing supports to him, she came to me proudly and shared how he had boarded the bus and said, "morn Shisha." She had tears in her eyes; I knew then, she was where she's meant to be. Last week she shared a video of this gentleman telling us where he wanted to go for lunch. Latisha prompted him, "use your BIG VOICE!" and the person she supports said "Red Lobster!" While this milestone may seem small, it is hugely significant for this person. Being able to feel comfortable using his voice is due to Latisha's support each and every day.


Community Participation:
Latisha is fully engaged every time she's providing supports; she takes the time to listen. She knows how much everyone enjoys their time in Community Partners. She realizes some people are self-starters, and others require a little more motivation, but works well to understand each person's needs. Karaoke is a favorite activity for many. At a community event, a person she supports shared they wanted to sing a song, but they felt afraid. Latisha requested the song and began to sing, while encouraging the person to join her. After some brief hesitation, the person joined and eventually "took over," overcoming all nerves. It was so fun to see!