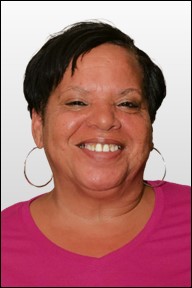 Nominee:
Name: Lori F.
Department: Community Living, House Supervisor
Years in company: 8 Years, 7 Months
Nominated By:
Name: Sletta A.
Position: Community Living Coach

Name: April M.
Position: Program Manager
Here are the Highlights from Lori's nomination:

Top Attributes:
Mission Driven:
Lori excels at being mission driven. She consistently promotes the idea of the people we support getting out and doing the things that they enjoy, and to promote their own "why." She is consistently working extra shifts when the team is in need. She takes pride in her work, her team, and the people we support. There is no one specific example because Lori does a lot every day to ensure the wellbeing of everyone. She has a huge heart and works hard for her team. She never asks them to do anything she wouldn't do, and she is the glue that holds everything together for both homes where she works.

Advocacy:
Lori is the first to speak up when the people we support need/want something. She is consistently encouraging her team to take people we support out in the community. She has advocated for tablets, phones, etc. for when the people she supports have asked for them. She's currently working on getting one person she supports down south to visit his family. She does whatever she can when it comes to decorating their home to make it truly feel like their home.