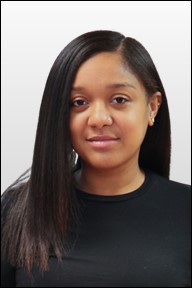 Nominee:
Name: Seniya C.
Department: Community Partners
Years in company: 11 Months

Nominated By:
Name: Sarah B.
Position: Assistant Director of Community Partners

Here are the Highlights from Seniya's nomination:
Top Attributes:
Compassionate
Focused
Proactive
Advocacy:
To limit an example of advocacy to one, would not appropriately reflect Seniya's commitment to truly empowering people with differing abilities to live, work and thrive in the community. Seniya has developed an excellent rapport with the people she supports. She continually advocates for each of them. It comes so naturally to her; she doesn't even have to try. When one person she supports returned to Community Partners and struggled to get around, she strongly advocated for a wheelchair; another person was having medical issues, she reported it daily allowing the home he lived in to schedule a doctor's appointment. In another situation, a person she supports was put on a strict liquid intake limit; Seniya closely monitored, documented, and reported any incidences of extra intake, and repeatedly inquired about her well-being. Seniya's genuine passion for the work she does every day is best reflected in the smiles, joy, and the positive feedback from people we support and peers alike.

Community Participation:
Seniya regularly encourages the group she supports to participate in new activities. After 2 years of being home due to COVID-19, it was difficult getting everyone engaged. Additionally, the new structure of the day program proved to be an initial challenge for many of the people who returned. Seniya quickly identified community activities and programs of interest. Chair Zumba and karaoke are two of the activities the people in Seniya's group thoroughly enjoy; she knows how important it is to them and sees how much joy it brings them. Seniya consistently registers everyone in a timely fashion to ensure they can participate in the activities of their choice. The group has now full reengaged and is enjoying life back to normal.