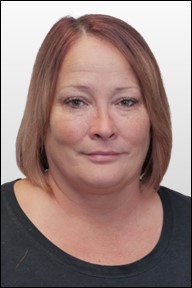 Nominee:
Name: Virginia "Ginger" R.
Department: Community Living
Years in Company: 3 Years, 1 Month
Nominated By:
Name: Reanna D.
Position: Supervisor
Here are the Highlights from Ginger's nomination:
Top Attributes:
Dependable
Determined
Dedicated
Mission Driven:
Ginger is a strong believer of our mission statement that the people we support should be empowered to live, work and thrive in the community. Ginger often brings the person she supports out in the community and introduces her to new activities. Ginger demonstrates her dedication in many ways; including always finding time for anyone she supports who may be having a hard time or needs extra support. Ginger was working in Personal Supports before coming to Community Living, she built great bonds with many people we support.
Community Participation:
Ginger has the mission and passion to provide the necessary steps to ensure her 1:1 has a voice in the community. She empowers people to try new things, and work towards their goals. This summer, she took the person she provides 1:1 supports to the swimming pool for the first time, and she had a great time. Ginger ensures when her 1:1 is out in the community that she is respected and that she is as comfortable as possible.